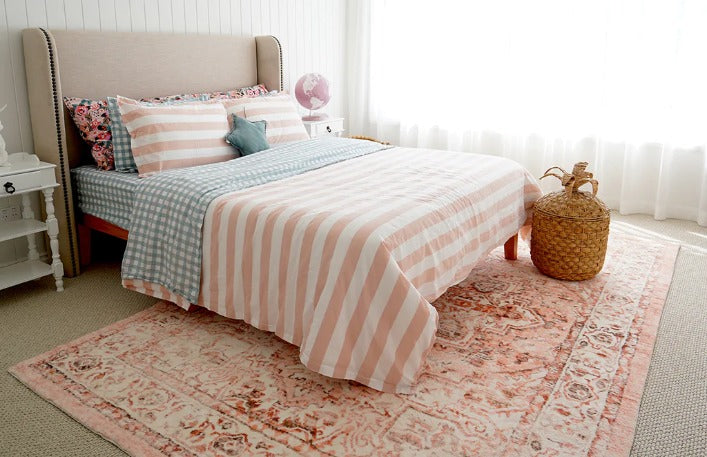 Can You Put A Rug On Carpet? Best Ways To Lay An Area Rug Over Carpet
You want to cover the carpet with an area rug, but you aren't sure if it's possible. Maybe you want to avoid putting nails on your floor or buying a pad that might make the rug slide around on top of the carpet. Here are some ways for doing this without causing damage to either surface:
Consider a thin rug
When looking up 'rugs Brisbane', consider thin rugs since they are much easier to lay over carpet than thick ones since they will conform more easily to the surface below. They can also be used in higher-traffic areas and are easier to clean.
Use carpet tape
If you want to keep your area rug in place, you will need to secure it somehow. One way to do this is with carpet tape. Carpet tape has a strong adhesive that is designed for use on carpets. When you lay an area rug over a carpet, you can use the tape to hold the rug down, so it does not move around as easily.
Lay area rug underneath furniture
You can also lay an area rug underneath the furniture. This is a great option if you're looking to add some extra padding to the floor and raise the height of your room. To do this, place a thin rug under your couch or chair legs. Then, use carpet tape to hold it into place and elevate it off of the carpeting. Be sure to avoid creating any tripping hazards by putting any type of rug on top of one another.
Elevate your area rug off the carpeting
It's important to elevate your rug off the carpeting. This will give it more character and keep it from slipping, especially if you have a heavy-area rug. You can do this by using a platform or a non-skid rug pad. 
Using non-skid pads will help prevent the backing of your area rug from shifting around and protect the floor from being scratched by metal tacks used in some area rugs. Make sure you get one that is made for hard floors since sticky carpets won't work well on hardwood floors like they would on carpeting.
With these methods, you can use a rug on top of carpeting in your home. If you want to add some colour and texture, consider buying an area rug that is big enough to cover most of the carpeting in a room. Ready to buy a new rug? Miss Amara offers a huge selection of premium rugs, so it's not hard to find something that suits your needs and taste. Shop here now!