You might not get the choice of rug right the first time round!
This is why we have crafted our Try it At Home service and made our returns process a breeze!
30-day timeframe
This begins from when you receive your rug at home!
Original and unused condition
We envision you trying your rug at home the same way you'd try a new dress before taking off the tags - treating it gently and with care! It's important that if you roll out the rug and it isn't right, that you roll it straight back up again and contact us to organise a return.
Free returns
We'll arrange everything and even pay for return shipping!
Rug inspection
Once we receive your rug back, it will be inspected to make sure it meets the return criteria above.
Full refund
Once it passes inspection, a refund will be processed back to your original payment method. This will be processed within 30days from the day that the rug was returned back to us.
Exchanges
Rugs are a bit tricky to do a straight exchange! You can return your rug and place a new order for your next rug. Still unsure? Contact us below and we'd be happy to help!
Have issues with your rug?
We always want our customers to be 100% happy with their purchase.
If you received a rug less than perfect, please contact us we'll look into this for you right away!
Trade accounts may have different T&Cs
We can't accept a rug for return if it has been used or cleaned.
You may also return your rug if it's faulty for a full refund or replacement within 30 days of purchase. Faulty items must be returned in their original condition, unused, and undamaged in order to be eligible for a refund.
Underlays, bath mats and indoor mats cannot be returned.
Products on final sale or listed as 'NO RETURNS' cannot be returned.

If you purchase multiple rugs from us, the returns policy goes like this:

Our Try it At Home service lets you try the rug at your home so you can ensure it brings your vision to life! We will pay to ship the rug to you and even pay to ship it back to us if you don't like it! Given the bulky nature of rugs, shipping and returning them for free comes at a cost to us, so our Try it At Home service is subject to a fair use policy.

Customers can buy as many rugs as they like, however can return a maximum of two rugs for free within a 30 day period and get a full refund.
If you return a rug and would like to purchase another rug within 30 days, that's totally fine! Just note that regardless of the amount of rugs you order, we will only accept two rugs for return within the 30 day period.
You must wait 30 days after you've placed your most recent order if you want to be eligible for further returns on any new orders.
E.g.
Dylan buys 3 rugs for three different rooms, and returns 1 because the colour isn't right.
She now has 2 Miss Amara rugs at home.
Dylan chooses another 2 rugs from our site within 30 days.
So she has 4 Miss Amara rugs at home! She looks over her selection and decides she doesn't need all 4.
As she's already returned 1 rug, she is eligible to return 1 more rug.
Dylan is not eligible to return any more rugs. Dylan keeps 3 rugs.
As per our returns policy above, once you receive your order, you have up to 30 days to return it due to a change of mind unless they are deemed faulty.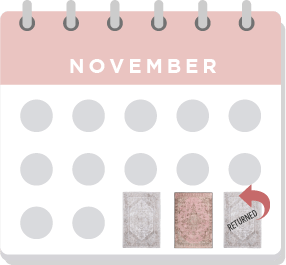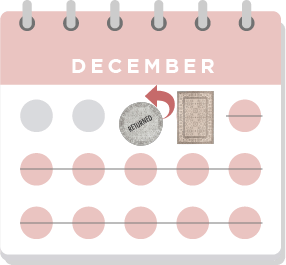 Dylan needs to wait 30 days after she placed her December order before she purchases again if she wants to be eligible for further returns.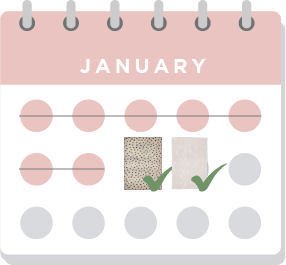 EMAIL US
hello@missamara.com.au

Live Chat
Click on the chat icon!