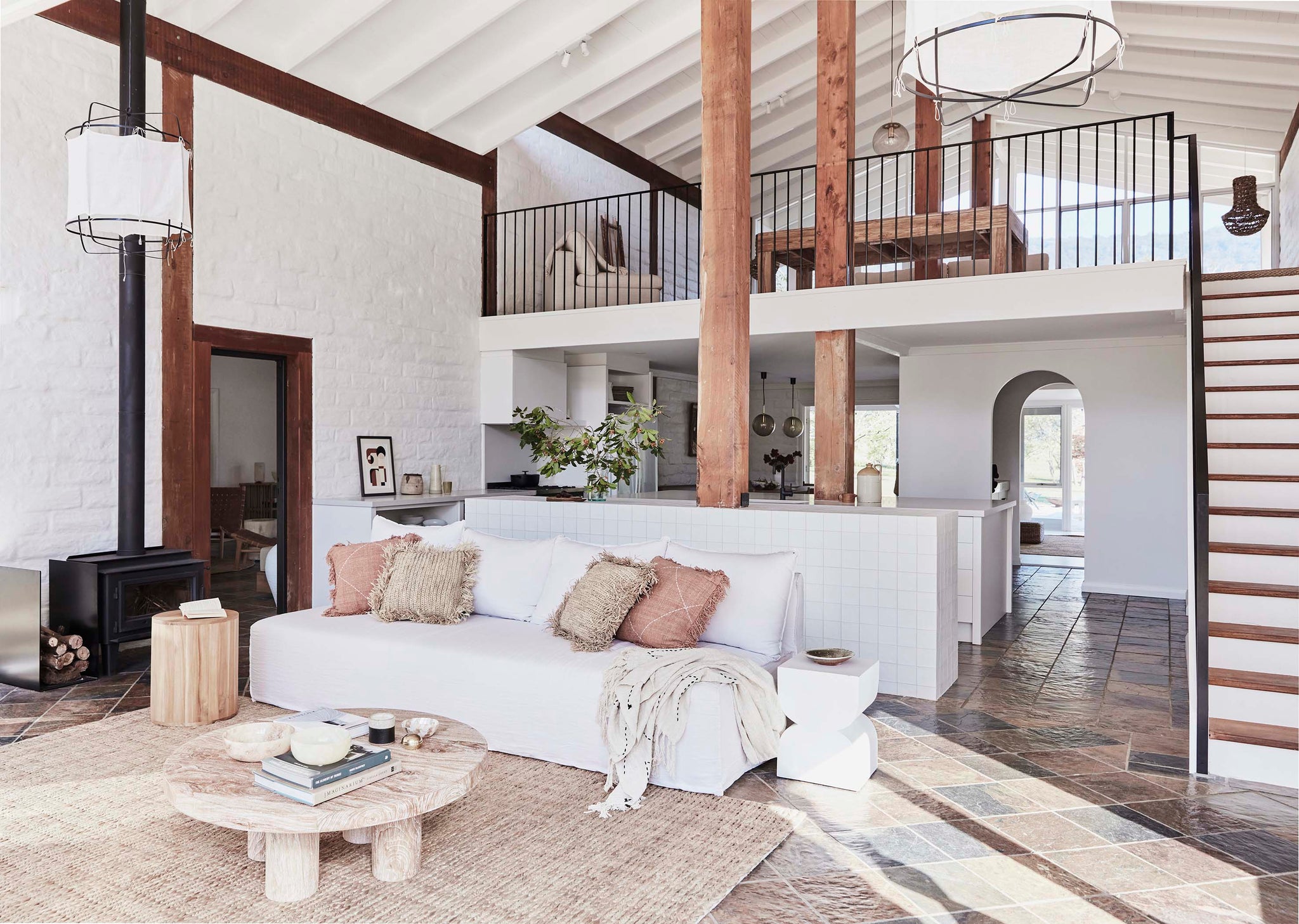 Creating a Cosy Retreat: The Magic of Rustic Home Decor Revealed
Creating a Cosy Retreat: The Magic of Rustic Home Decor Revealed
Create a warm and inviting atmosphere with rustic home decor, which incorporates natural materials, warm earthy colours, and textures. Rustic decor never goes out of fashion and can be budget-friendly by sourcing elements from second-hand shops and upcycling items. 
With natural materials like wood and stone, an earthy colour palette, and cosy textures, you can create a personalised and inviting space, from the living room to the bathroom. Incorporate DIY pieces like wall hangings, storage solutions, and furniture for a unique touch. Combine rustic decor with contemporary styles by using natural elements and mixing textures.
Rustic Home Decor: A Cosy and Inviting Style
Understanding Rustic Home Decor Elements 
Rustic home decor revolves around natural, warm, and inviting elements. Think of exposed wooden beams, reclaimed wood furniture, woven baskets, and textiles in warm, earthy colours. You might also find a woollen rug on the floors, animal hides on the walls, and antique knick-knacks on the shelves. All these elements work together to create a cosy and inviting atmosphere that exudes warmth and comfort. 
Benefits of Incorporating Rustic Home Decor into Your Space
Rustic home decor's main benefit is the sense of comfort it brings to your living space. By incorporating natural elements, you create a warm and inviting atmosphere that makes everyone feel at home. 
Besides, rustic decor is a timeless style that never goes out of fashion. It works equally well in a cosy cabin in the woods and a chic apartment in the city. Another significant advantage is that rustic decor is often inexpensive. You can source many of the elements from second-hand shops, and garage sales, or get creative and upcycle items yourself.
How Rustic Home Decor Boosts Relaxation and Warmth
Rustic home decor helps to create a sense of relaxation and warmth in your space. The natural elements work together to make you feel like you're surrounded by nature, which has been found to help you feel more relaxed and at ease. The warm colours, soft textiles, and cosy lighting further add to the ambience, making you want to snuggle up with a good book and a hot cup of cocoa. You'll find that a rustic home decor style helps to calm your mind and reduce stress.
💡KEY TAKEAWAY: Rustic home decor is a timeless, inviting, and cosy style that adds warmth and relaxation to your living space. By incorporating natural elements, warm colours, and soft textiles, you'll create an ambience that makes everyone feel at home.
Materials, Colours, and Textures of Rustic Home Decor 
The Beauty of Natural Materials in Rustic Home Decor 
Wood, whether in the form of exposed wooden beams or distressed wood furniture, can transform a space into a rustic haven. The imperfections and blemishes in the wood create an authentic rustic look that oozes character and charm. Stone walls and fireplaces also add to the natural beauty of the rustic look.
Earthy Colour Palette for a Rustic Look 
A warm and earthy colour palette is quintessential for rustic home decor. Think of colours found in nature, including browns, tans, greys, greens, and neutrals. These earthy tones complement the natural materials used in rustic interiors and create a cosy and inviting atmosphere. Layering different shades and textures of these colours can add depth and warmth to the space.
Textures and Patterns for Ultimate Cosiness 
Textures and patterns are essential to creating a cosy and comfortable rustic home ambience. The use of textured fabrics, such as wool, mohair, and chunky knit blankets, can add warmth and softness to hard surfaces. 
Mixing different patterns such as plaids, stripes, and animal prints can create visual interest in a space without overwhelming it. In addition, incorporating texture and pattern into decor pieces like pottery, baskets, and woven rugs can add authenticity to the space and provide a rustic touch.
💡KEY TAKEAWAY: Combining textures and patterns with natural materials and colours, such as woollen blankets, woven rugs, and pottery, can add depth and interest to your space, ensuring you achieve that ultimate cosy and welcoming atmosphere.
DIY Rustic Home Decor Ideas for a Personalised Space
Wall Decor Ideas 
The bare walls in your home can be a canvas for a variety of rustic wall decor ideas. One of the easiest and most cost-effective ideas is to create a wall hanging using twigs and branches. This rustic art can serve as a focal point in any room and can be personalised by adding some fairy lights for a cosy and warm ambience. 
Another idea is to create a gallery wall using rustic picture frames made of wood, metal, or even old window frames. This will give your wall an eclectic look while providing a place to display your favourite art or family photos.
Creating Rustic Storage Solutions for Your Space 
One of the biggest challenges in any home is finding storage solutions that are both functional and visually pleasing. Rustic storage solutions, however, are the right answer to adding both style and storage. 
You can turn an old ladder into a rustic bookshelf or add a few wooden crates to create an instant storage solution for your shoes or other knick-knacks. You can also use an old wine crate as a side table or an old shutter as a divider to create a rustic vibe.
Personalising Your Home with Rustic Furniture DIYs 
Rustic furniture is all about creating a well-worn, lived-in feel, and creating your own pieces can be incredibly satisfying. With basic woodworking skills, you can construct anything from a farmhouse coffee table to a classic ladder shelf. Rustic furniture is also an excellent opportunity to breathe new life into old items, such as painting old dressers in a distressed style or reupholstering chairs in natural fabrics. 
💡KEY TAKEAWAY: Incorporating DIY rustic home decor into your space is a perfect way to create a personalised and warm environment. From wall art to storage solutions and furniture, tons of creative DIY projects can add a rustic touch to your home decor. Get imaginative and crafty to achieve a truly unique look.
Implementing Rustic Home Decor in Any Space
The Best Spaces to Insert Rustic Home Decor
The best spaces to insert rustic home decor are the living room, bedroom, and dining room. In the living room, you can add a rustic statement piece such as a wooden coffee table or a distressed leather sofa. In the bedroom, you can use a natural wood headboard or a vintage trunk as a bedside table. In the dining room, you can add a rustic chandelier or a reclaimed wood dining table to create an inviting atmosphere.
How to Blend Rustic Home Decor with Contemporary Styles 
You can blend rustic home decor with contemporary styles to create a seamless look. One way to do this is by incorporating natural elements such as plants, flowers, and stones. You can also mix and match different textures like a rustic wooden coffee table and a sleek modern sofa. Another great way is by using lighting fixtures to add a rustic touch, such as Edison bulbs or industrial lamps.
Rustic Touches for Any Room in Your Home 
You can add rustic touches to any room in your home, from your bathroom to your home office. In the bathroom, you can use a wooden mirror frame or a vintage faucet to create a rustic look. In the home office, you can add a wooden bookshelf or a vintage desk lamp to bring in some rustic charm.
💡KEY TAKEAWAY: Rustic home decor is a versatile style that can be incorporated into any space. By following these tips, you can easily add natural warmth and texture to your interiors, creating a cosy and inviting atmosphere.
Budget-Friendly Rustic Home Decor
Scouting for Affordable Rustic Home Decor Finds 
First things first, hit up your local flea markets, thrift stores, and garage sales to scout for affordable rustic decor finds. Look for wooden crates, mason jars, metal hooks, and anything that has a distressed look. You can also check online marketplaces for secondhand decor that fits the rustic aesthetic. 
Upcycling and Repurposing for Rustic Home Decor 
Upcycling and repurposing are excellent ways to decorate your home in a rustic style while staying within your budget. Old wooden pallets can be transformed into a coffee table, while an antique ladder can be used as a towel rack. Get creative with your DIY skills and turn old items into something new. 
Creating Your Own Rustic Home Decor on a Budget
If you're feeling crafty, you can create your own rustic decor pieces on a budget. Paint mason jars with chalk paint to create candle holders or use them for flower vases. Add a touch of rustic charm to your shelves by tying twine around old books to create a book bundle. You can also create your own decorative signs with old pallets and stencils. 
💡KEY TAKEAWAY: Don't be afraid to get creative and think outside the box when it comes to decorating your home in a rustic style on a tight budget. With a little imagination and some DIY skills, you can achieve the look you're after without breaking the bank.
At Miss Amara, we are committed to being your ultimate destination for exquisite rugs and home decor. We firmly believe that every home deserves a touch of beauty and style, and we strive to be the catalyst for that transformation. With our curated collection of premium-quality rugs, we offer you an unparalleled selection to explore and choose from.