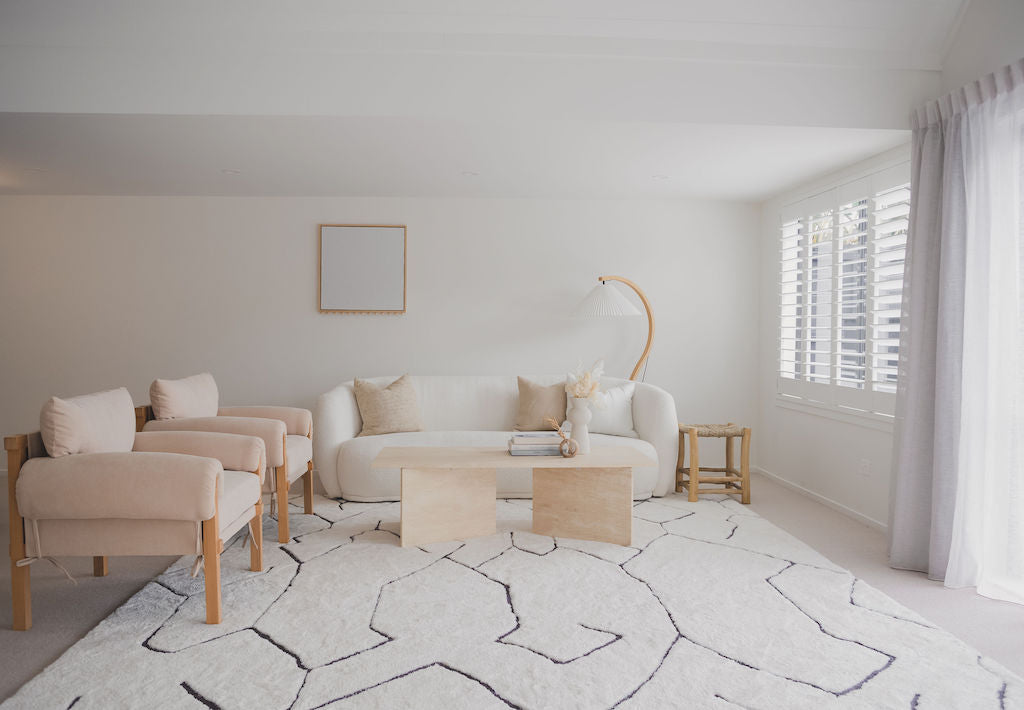 How To Choose The Right Rug: 4 Essential Factors To Consider
Selecting a rug that goes well with your space can be an intimidating process. From determining the perfect size and shape to finding just the right colour, it's easy to get overwhelmed when trying to choose your dream rug. Don't worry, though – if you're searching up terms like 'rugs Sydney' or 'rugs in Melbourne', you'll be sure to find something that suits your needs in no time. Here are a few essential things to consider when shopping for a rug.
Consider your space
When selecting a rug for your area, it is essential to be mindful of several factors. A handy tip to keep in mind is: measure twice, so you only have to buy once! 
Knowing the size of the room or area you're wanting to cover will help you determine what type of rug works best for that particular space. For instance, if you have a spacious living area, an oversized rug may fit better than a small one.
Having a clear idea of your style can also help when selecting the ideal rug size. If you're looking for something bold and patterned, then going with a small rug may work better than a larger rug, which tends to overwhelm a room if it features an eye-catching design. 
On the other hand, if it's a synthetic material like polypropylene, then go bigger. Because it doesn't show dirt easily, no one will know it's been around longer than expected.
Finally, choosing the right size also means considering thickness. Some materials require additional padding underneath them in order to make sure they lay flat on the floor without bunching up or wrinkling over time. Rug pads are your best friend, as they provide extra cushioning while still allowing airflow between the pad and rug.
💡KEY TAKEAWAY: When selecting the perfect rug for your space, it is essential to measure your space, consider your style preference, and determine the right rug texture based on where the rug will be placed.
Think about texture
The texture of a rug is an essential factor when selecting one that fits your needs. Natural fibres like wool or cotton can provide a soft and luxurious feel, while synthetic fibres like polyester or nylon are more durable and easier to clean. 
Soft and plush rugs have a higher pile height than flat weave options, making them ideal for adding warmth and comfort to any space. Pile height matters when selecting your rug. Too high can overwhelm the room, while too low may not be able to handle foot traffic properly.
Looking for an area rug for your dining or living room? Take into account the furniture legs when taking your measurements. If you're wondering how to flatten a rug in odd places, that can happen when the front legs of all pieces of furniture are on top of the rug. Instead, the legs should fit comfortably within its boundaries. 
If you've recently searched up 'what size rug for queen size bed', let's use that as an example. If your room features a queen bed that takes up most of the floor space, then start shopping for at least a large rug for adequate coverage. This is also a great option if you want something large enough to fit underneath multiple pieces without making the space feel cramped or overcrowded.
For entryways and hallways with little furniture, small rugs are a great option. They also come in a variety of fun colours and patterns that can add visual appeal. Keep your accessories in mind, too. Investing in a good quality non-slip pad will prevent your new purchase from slipping around on hardwood floors or tiles.
The feel of a rug can either make or ruin the overall aesthetic of an area; thus, it's critical to pick one with a suitable texture.
💡KEY TAKEAWAY: When figuring out the ideal texture for your rug, some factors to consider are foot traffic, furniture size, room size, and projected wear and tear.
Get creative with colour
Choosing the right hue for your rug can completely transform a room's aesthetic. Neutral palettes are a timeless choice that will work with any decor style and look great in almost any space. Bold colours are perfect if you're looking to make a statement and draw attention to an area of your room. And if you're feeling adventurous, mix and match patterns as you like.
A classic look can be created using neutral colours like beige, grey, and white. While adding texture and depth to a room, these colours blend seamlessly into existing decor. The rugs can easily transition from one season to another, so you don't have to buy new ones every year. You can also focus on other choices instead since they do not distract from other design elements.
Spaces with less natural light or children's bedrooms could benefit from a fun and vibrant pop of colour. Even in the form of a small area rug, these hues can create energy and transform the vibe of even the dullest rooms. You could also try mixing different shades together – think ombré or two-tone patterns – for added dimensionality and interest.
Finally, why not get creative with patterned rugs? From chevrons and stripes to florals and geometrics, these unique designs can freshen up an otherwise drab area. Mixing different shapes creates visual appeal while adding character at the same time. This is perfect if you're looking for something eye-catching yet subtle enough not to overpower everything else in the room. 
💡KEY TAKEAWAY: The right colour or pattern of rug for your space depends on what you want to achieve by adding the rug: think about the energy, the overarching colour story, and how the rug will transform the space.
Don't forget functionality!
When it comes to shopping for rugs, functionality is a factor that should never be overlooked. It's easy to get caught up in how cute the rug you're eyeing is. You may end up overlooking its practicality (or lack thereof, depending on the space).
Let's face it – spills happen. To avoid having to figure out how to get stains out of rugs down the line, make sure you choose fabrics that are designed for easy cleaning and stain resistance. This goes for those searching up 'how to stop dog from peeing on rug', too: opt for fabrics that have been treated with a protective layer or are crafted from synthetic fibres, such as polyester and nylon. These demonstrate higher resistance to staining, compared to natural materials like wool and cotton.
If staining is unavoidable where the rug will be placed (think children's playrooms or kitchens), a washable rug is worth considering. You can ask the sales associate of your preferred rug retailer about concerns like how to wash a shag rug or how to wash a wool rug.
If you plan on using your rug in high-traffic areas like entryways or living rooms, durability is essential. Look for rugs made from sturdy materials such as jute, sisal, or seagrass, which can handle heavy foot traffic and take longer to show visible signs of wear and tear. These natural fibre options may not be as soft underfoot, but they will last much longer than other types of rugs if cared for properly.
Another important factor to consider when choosing your dream rug is non-slip backing material, especially if you have young children running around the house. Non-slip backings help reduce accidents by providing extra grip on hard surfaces like tile floors and wood floors. They also protect against scratches and scuffs caused by furniture legs moving across the surface of the flooring material underneath the rug. 
Verify if an anti-slip feature is included prior to purchase. Plenty of vendors offer it for an additional fee, but investing in it can be crucial if the safety of your household is a priority.
💡KEY TAKEAWAY: Don't let the aesthetics of a rug distract you from considering its practicality – make sure you have your bases covered for any eventualities like spilling, foot traffic, spillage, and more.
The perfect rug is within your reach
By taking factors like size, texture, colour, and functionality into account before purchasing a rug, you'll ensure that your selection will look great in any setting, while still providing practical benefits.
At Miss Amara, it's our passion to help you find the perfect rug for any function, whether it's for common areas or private spaces. Our dedicated team is ready to give you expert advice on which rug from our vast colour and material selection is best for you.