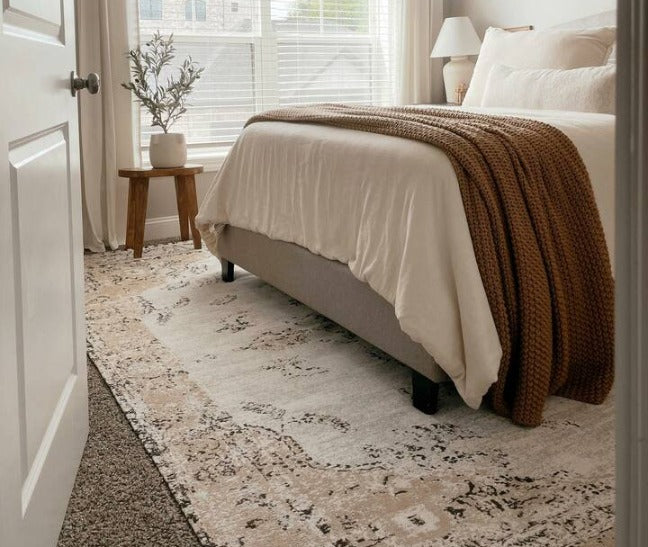 Area Rug Placement and Rug Sizes: What Size Rug for Queen Bed
A well-placed area rug can be a beautiful addition to your home. However, it's important to make sure you're buying the right size of rug for the space and decorating style you have in mind. If you have a queen bed, this will determine what size of area rugs works best for your room.
Try out a 5x7 rug to anchor the queen-size bed and dresser. 
If you've been looking up 'rugs Brisbane' to look for a rug size to anchor your queen bed and dresser, consider a 5x7 rug. This size fits nicely in front of your queen-sized bed and gives you plenty of room to maneuver around it while maintaining enough space for the bed itself. 
It's also a good size for your dresser – you'll be able to place it on top of the rug without any trouble at all. A 5x7 rug is large enough that you'll have enough room to walk around comfortably but not so big that it takes up half of your bedroom floor. 
For a more minimal approach use a 3x5 rug. 
For a more minimal approach, use a 3x5 rug. This size is small enough to still leave room for your bedding and furniture but large enough to make an impact in the room. To create this look:
Place the rug lengthwise along one side of your bed (you can also place it at both ends).

Arrange all other accessories on top of or next to this piece, such as pillows, blankets, books and lamps.

Nestle chairs, ottomans and coffee tables around the rug for additional seating options or additional decorating surfaces.
A room with minimal furniture can use an 8x10 rug. 
The size of a rug you buy depends on the room in which it will be placed. For example, if you have a small bedroom with minimal furniture, such as a twin bed or futon, then an 8x10 rug would be perfect for that space. The larger the room and the more furniture in it, the bigger your rug should be to balance out the space.
The key to getting the right rug size for a queen bed is knowing how much space you want it to take up and what kind of style you are going for. If you're looking for an area rug that will help define a space and make it feel cozy or inviting, then go with a 5x7 or 3x5 size so that it can do its job. 
When you're ready to place an order for your new bedroom rug, browse the wide selection of Miss Amara. We have everything from simple eco rugs to elaborate modern rugs – shop now!