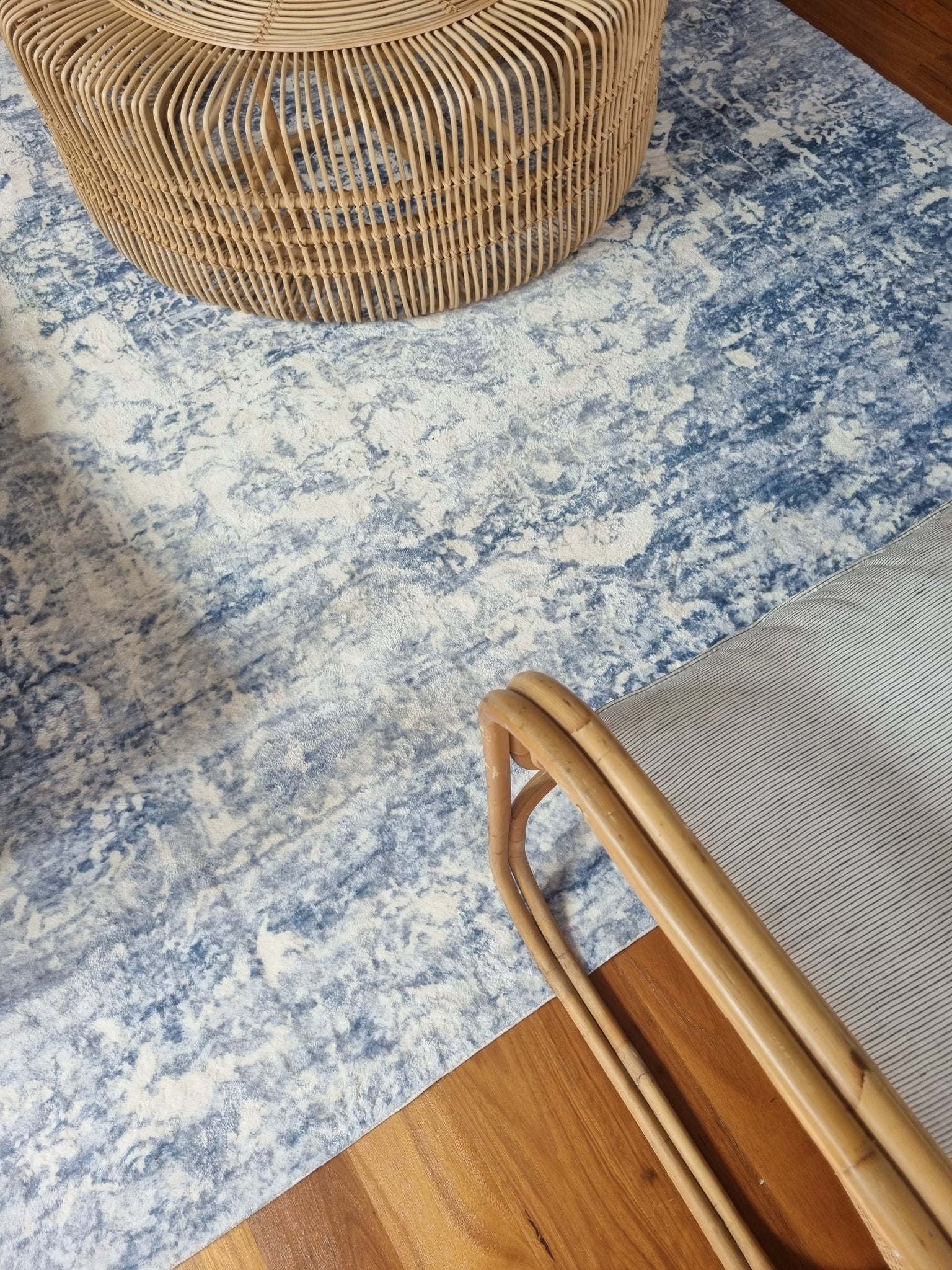 How To Choose Rug Colour For Living Room: A Handy Guide
Rugs can tie the look of your living room together. However, finding the perfect one for your space can be a daunting task.
Rugs, however, are all about variety. While everyone has a different style, there's always a certain design you might like. You can choose from bright and bold colours, neutral tones, or even patterns.
If your search history is filled with terms like 'rugs Sydney' or 'where to buy rugs in Melbourne', you might be looking to spruce up your space. Before you make that purchase, you should know that choosing the right rug colour is key to getting your dream rug.
What factors should you consider when choosing a living room rug?
When contemplating how to choose the right rug for your living room, consider the existing decor and colour scheme. What colours have you already used in the space? 
If you've gone with neutral tones such as white or grey, then adding a bolder-coloured rug could be just what the room needs to give it some life. If you've already got a lot of colour in the room, then going for something muted would be preferable.
If you want a cohesive, unified look in your space, then having the rug match either the sofa or walls can help create that effect. However, if you're looking for contrast and visual interest, pairing a rug with different colours than your furniture or walls may be more effective. Ultimately, the rug that works best for your space depends on your personal taste.
Also, consider the ambience you'd like to establish in your living room. Are you drawn towards beiges and browns to make the place cosier and more inviting? Warmer shades like this will fit the atmosphere you're going for. What if you're after something bright and cheerful? In this case, you could opt for a mustard yellow or even lime green hue to give the area some much-needed energy.
Once you've figured out what kind of feeling you want from your rug, it's time to start looking at different shades. You'll find that even within one particular colour family, there is still plenty of variety – from deep burgundy hues to soft blush pinks.
Don't forget how texture may come into play, too! Shaggy rugs add an extra level of comfort and feel great underfoot, while flat-weave designs really allow colours to pop against hardwood floors or tiles.
There are so many gorgeous options out there that sometimes taking risks can pay off. Try combining two contrasting colours like navy blue with sunshine yellow or mixing up patterns by layering smaller patterned rugs over larger plain ones. Get creative and see where the process takes you.
If you have more questions, a sales associate at your rug retailer of choice should be able to help you with colour recommendations. You could also ask them how to flatten a rug, how to wash a wool rug, or how to wash a shag rug. 
Deciding on a suitable hue for the rug in your living area is an essential choice that can aid in forming a cosy and appealing ambience. Having said that, let's take a look at some bright and bold colours that will make any living room stand out.
💡KEY TAKEAWAY: When selecting your living room rug, consider your existing furniture, colour scheme, and desired atmosphere. Go through various shades of your desired colour and factor in textures. 
What are some of my options for the colour of my living room rug?
Bright and bold to energise 
Want to turn your living room into a space that guests will never forget? Bright and bold colours are your best bet. For a striking look, consider a red rug. Whether you opt for a deep, dark hue or something more vibrant, red is sure to turn heads. To create an inviting space, orange rugs can be just what you need. They're perfect for adding warmth and energy to any room without being overpowering. 
For those looking to inject some cheerfulness, yellow rugs could be just the thing. From pastel shades to bolder hues, they offer plenty of options when it comes to creating that cheerful atmosphere in your home. 
Finally, green rugs provide a fresh feel that will have guests wanting more. There's no limit when it comes to bringing nature inside your home with beautiful shades of green. 
Neutral colours for relaxation
Rugs in understated, neutral hues provide an elegant look that can instantly transform any space into a casual, inviting area. A neutral-toned living room allows occupants to focus less on the space and more on the activities they're doing in the room, like watching TV or making conversation.
With its warm tones, beige can easily blend in with existing decor while adding subtle sophistication. Grey rugs also bring contemporary energy to your home without being too overwhelming. Whether you opt for light or dark shades of grey, these versatile pieces will create a modern and stylish atmosphere in your living room. 
For those looking for something airy and crisp, white rugs are a perfect choice. They'll give off a clean feel while still providing texture and interest to the room's design. Plus, they're easy to match with other furniture pieces, so you don't have to worry about clashing colours or styles when you redecorate down the line.
However, if your living situation makes you likely to search up terms like 'how to stop dog from peeing on rug' or 'how to get stains out of rugs',  then white may not be the best colour choice.
Patterned rugs for an eclectic feel
A rug with a unique, striking design can bring life and character to your lounge. Whether you're looking for something modern, feminine, or artistic, there's sure to be a pattern that will suit your style.
Geometric patterns can give your living room an instant modern edge. From classic chevron designs to more intricate hexagonal shapes, these rugs are perfect for making a statement in any space. The bold lines and bright colours of geometric patterns will instantly draw the eye and create an impressive focal point in the room.
Floral patterns bring a touch of femininity into the mix. Choose from subtle prints with soft pastel shades or go bold with vibrant blooms – either way, they'll make your living area look beautiful. 
Abstract patterns provide an interesting twist on traditional rug designs. They often feature unexpected colour combinations and unique textures, which really stand out against plain walls or furniture pieces. If you want to create an artistic vibe in your home, abstract rugs are the way to go. Thanks to their playful nature, your living room can benefit from some added character and charm.
💡KEY TAKEAWAY: Depending on the energy you'd like the living room to give off, you can choose from bright and bold hues, neutral colours, or patterns for your rug.
Finding the right hue for you
It's important to make high-traffic areas like the living room a comfortable and visually appealing place to be. By making careful considerations in your choice of rug colour, you can achieve your desired atmosphere and elevate the aesthetic of your home. 
We at Miss Amara are passionate about assisting you in designing a home that embodies your distinct sense of style and personality. Our team of professional stylists is available for free design consultations, and they can assist you in selecting the ideal rug to match your decor and realise your vision.